It's time to join the 3D printing revolution! :)
As base design to build was chosen RepRap Prusa i3 (single sheet aluminium frame):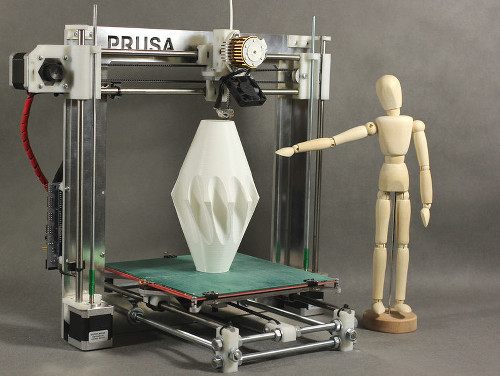 Pros:
Enhanced frame rigidity
Easy assembly
Reduced number of printed parts
Cons:
Movable bed (limits maximum print speed)
Single sheet frame is designed to be manufactured through the use of a specialized equipment - Laser cutter, WaterJet, or CNC Mill / Router Table
Bill of materials1:
Base parts:
Electronics:
Smooth rods kit - £19,90:

Z axis:
X axis:

M8 20mm (for extruder).
M8 370mm (2 pcs).

Y axis:

Threaded rods:

M5 300mm (2 pcs).
M8 205mm (4 pcs).
М10 380mm (2 pcs).

Bearings:
Fixings and fasteners:

M10 washer (8 pcs)
M10 nut (12 pcs)
M8 washer (22 pcs)
M8 nut (22 pcs)
M10 fender washer (4 pcs)
M3x10 bolt (23 pcs)
M3x16 bolt (6 pcs)
M3x18 bolt (5 pcs)
M3x25 bolt
M3x30 bolt (6 pcs)
M3x40 bolt (2 pcs)
M8x60 hobbed bolt (for extruder)
M8 locking nut
M8 washers (5 pcs)
M4x50 bolts (2 pcs)
M4 fender washer (4 pcs)
M4 nut (2 pcs)
M3 locking nut (50 pcs)
M5 bolt (2 pcs)
M5 locking nut
M5 washer (2 pcs)
M3 nut (6 pcs)
M3 washer (2 pcs)

Misc:

Aluminum groove mount plate for hot end - €6,55.
Extruder springs (2 pcs)
Belts GT2 6mm (2m length), pulleys GT2 6mm (2 pcs) - $11.58.
Motor jaw shaft couplers 5x5 mm (2 pcs) - GBP 3.30.
Heated build platform springs 25mm (4 pcs) -took from cheap rollerball pens.
Spiral cable wire wrap tube 3mm - $6.64.
Kapton tape 25mm - $4.40.